News and Events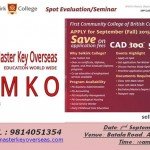 September 2, 2015
Master Key Overseas organized Seminar on Study in Canada in association with Selkirk College, Canada on 2nd September 2015 at Amritsar office. College Representative Mr. Anoop shared his expertise guidance with students present during seminar about exploring study and career opportunities in Abroad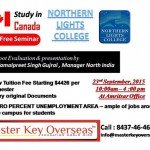 September 23, 2015
Seminar by Famous Canadian SPP NORTHERN LIGHTS COLLEGE was organized on 23 September, 2015 at Amritsar office of MASTER KEY OVERSEAS. This seminar was an opportunity to apprise immigration aspirants about various opportunities of living, working & studying in Canada.
August 5, 2015
DESCRIPTIVE CUM INFORMATIVE SEMINAR @ MASTER KEY OVERSEAS • Great opportunities for students to study in CANADA • Seminar by CAPE BRETON UNIVERSITY Come and Visit our SEMINAR and get information related to study in CANADA Venue: Batala Road, Amritsar Time: 10:00 am to 4:00 pm
Make Your Career with Master Key Overseas

KARAN NAIB
Course : PG Diploma in Business Administration
Master key Overseas, thank you so much for your guidance and support. With your help, I
got my visa for Canada for my higher studies. You made my dream come true. Thank you so
much all staff and Sir.

Shivam Varma
Course : Bachelors of Business Administration
I am grateful to MASTER KEY OVERSEAS for the consultation that I got regarding my Cyprus student visa application and I got student visa in just 1 day. With guidance of Mr. Shiv Mahajan, I got my visa without IELTS exam and Interview.

Natasha
Program : Diploma in electronics and telecommunications (level 7)
I am Natasha .After completing my 10+2 class with 70% marks. Although we listened so much study in abroad. So, I was also eager to go to New Zealand for study. Then, I took IELTS exam and obtained 5.5 bands. Then my friend suggested me about MASTER KEY OVERSEAS and I visited there. Staff was very good and they explained very well and I got visa in just 3 days with their help. I am very thankful to MASTER KEY OVERSEAS

Hemant Gulati
Program : Diploma in Hotel Administration
HI! My name is Hemant Gulati.I am very thankful with the services of MASTER KEY OVERSEAS. I had 5 year study gap after my +2 and I was not sure about my student visa but due to the effort and guidance from Master key Overseas, I was able to get the visa in one day for Cyprus.
Govind Vasudev
Course : PG Diploma in Business Administration
I am very lucky that I got chance to process my file through MASTER KEY OVERSEAS. This is the organization where I came to know about what I have to do in my future. Thanks to its all staff members, without their help I was unable to find the good option in Canada. With their help, I was able to apply for post graduate course in Humber college, Toronto in September, 2015 batch. I bless MASTER KEY OVERSEAS for helping me out to find a better option and secured Future.
Education Consultants in Punjab
Master Key Overseas has its inception in 2005 by Mr. Shiv Mahajan whose main motto is to dedicate its services to the people who are interested in studying or migrating to overseas countries. Master Key Overseas is having a self-motivated, knowledgeable as well as professional management. We are expert in providing proficient, resourceful and Cost effective solutions and enable our clients to achieve their goal at the lowest cost and within the shortest possible time. We suggest appropriate courses, countries and universities to ensure that ambitions, goals and aspirations are met. Master Key Overseas is an official representative of over 100 foreign colleges and universities around the world.
Services (Education Consultants in Punjab)
Master Key Overseas (Education Visa Consultants Punjab) believes in providing best of its services by maintaining the highest possible standards of professionalism, dedication, integrity and confidentiality to its clients.
Career Counseling
Visa Assistance
Admission Guidance
Pre Departure Guidance
Business Opportunity